Welcome to CaliforniaFoodCard.com!



Intro: California food handler card law

mandates

that all food handlers in California should have a California Food Handler card by July 1, 2011. Employees hired on or after this date will have 30 days from date of hire to acquire a food handler card.




The Rserving Food Safety for Handlers Course is an ANSI Accredited Program Certificate Issuer - Accreditation Number 1185 and can be used to obtain your food handler card in California.

For a low cost, you can obtain your Food Safety for Handlers Certification. The course offers multiple sections in which you will gain knowledge on the things that are most important in the food industry. Each section offers a short Pre and Post quiz along with flashcards before the post quiz to help you better understand the material you just learned. At the end of the course you will find a Final Exam in which you will apply the information learned in order to pass the course and receive your certificate. The course only takes a few hours allowing one to finish the course in one day!





Upon completion of the course, you will receive a food handler certificate of completion from Rserving.

Sign up here today!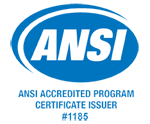 Rserving
, Professional Server Certification Corporation, is an
ANSI Accredited Program Certificate Issuer - Accreditation Number 1185
Notice to residents of Riverside, San Bernardino, and San Diego counties: This course does not meet the requirements in your county. A food handler card obtained from Rserving will be valid everywhere in California (except these counties).